Airport Hotels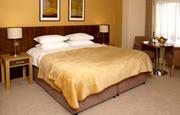 FHR offer a range of cheap airport hotels with parking included across the UK to help get your holiday off to a relaxing start.
Why book an Airport Hotel with FHR?
Early Check-in? Start your holiday a day early
Stay at a hotel close to the airport the night before you fly and arrive at the terminal relaxed, refreshed and ready to start your holiday.
Airport Hotels with parking included
Most airport hotel rates include holiday parking which can often work out to be just a few pounds more, and sometimes less than the cost of parking on its own.
Airport Transfers available
Transfers are availble to take you to and from the airport terminal
Avoid delays
Don't let the weather, traffic jams and other delays ruin the start of your holiday. Book an airport hotel and sleep sound in the knowledge that you have just a short journey to get to the airport
Choose from top hotel brands
FHR's range of airport hotels include top brands such as Hilton, Holiday Inn, Crowne Plaza and Marriott - all regularly reviewed by our customers and the team at FHR.
Staying On Return?
Booking an airport hotel when you return from your holiday is just as easy, simply click continue then enter your return date as your Stay Night. If you're parking and then staying on return please email reservations@fhr-net.co.uk with your booking reference number and the date you will be dropping the car off so that we can advise the hotel.
We have collected
5262
airport hotel
reviews from our previous customers showing a overall rating of
---
Holiday Inn LHR - M4 Junc 4
"
The hotel was very easy to get to and the Pre arrival info pack was superb. The reception area was very clean and the staff very helpful. We did not try the restaurant as it was a beautiful day so we walked to the local pub and had our evening meal in the gardens. We left early the following morning so didn't try breakfast. The room was superb with everything you could need, spotlessly clean with tea/coffee facilities. We had Pre-booked the national express airport hoppa service which picks up from the hotel forecourt, very useful as no need to lug heavy suitcases about. The bus was on time and the drivers very helpful. On our return the car was waiting for us in one of the hotels car parks and I noted that it had only one mile extra on the clock, so no moving to other locates. Overall very pleased with the service provided and would definitately use this hotel and FHR again
"
-

23/05/2013
100
%
Holiday Inn Gatwick - SSR
"
Room very comfortable, airport transfer from hotel to North Terminal took much longer than a few minutes from the hotel it took 20 so need to keep that in mind.
"
Pamela Finch

-

23/05/2013
83
%
Copthorne - Super Saver Rate
"
The hotel is very clean,very friendly staff, rooms are spacious with tv, hairdryer, tea/coffee facilities,some complementary toileteries and plenty of towels. Parking can be an issue if the hotel is really busy and you may have to park on the verges around the grounds. Airport transfer bus costs £4.50 per person and is not very reliable, you are best ordering a taxi which only cost £10 and takes approxmately 10 minutes. Overall I would rate this hotel and its facilities 9 out of 10 and would recommend to other travellers.
"
NJH

-

22/05/2013
83
%
The Sofitel London Gatwick
"
ideally located for the North Terminal with easy access to the parking facility
"
derrick monahan

-

20/05/2013
100
%
Crowne Plaza Birmingham NEC
"
Start and finish time for transfers requires revising. Could start earlier for early flights,and finish after 2145. Otherwise good hotel facilities.
"
TPMCKENZIE

-

20/05/2013
83
%
Russ Hill
"
Would be nice if transfer buses were a little more frequent.
"
-

20/05/2013
77
%
« previous
1
2
3
4
5
6
7
8
9
10
...
526
527
next »
Featured Airport Hotels
These airport hotels have been featured by FHR, based on reviews from our customers.